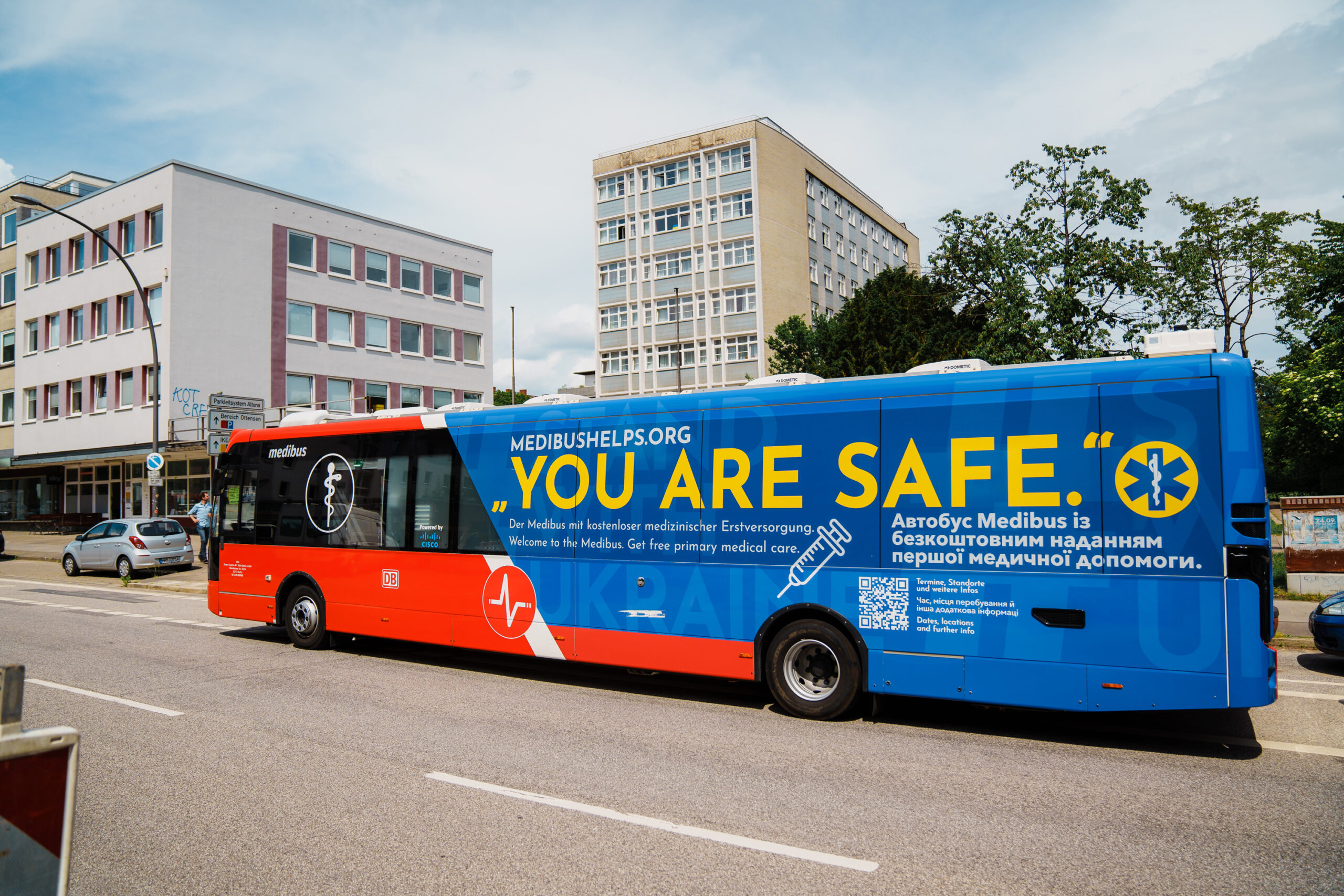 Hamburg
Welcome to the mobile medical practice in Hamburg.
The Medibus with free medical first aid.
In order to provide basic medical care to refugees who have come to Germany, the DRK district association Hamburg-Harburg, in cooperation with the social authorities of the city of Hamburg, offers direct help in the accommodations. The mobile medical practice has been traveling to small to medium-sized accommodations for refugees in Hamburg since the summer. An RTW equipped for the special requirements is also available.
Rescue service personnel and medical specialists from the German Red Cross are on board. Since September, Ukrainian doctors have also been working in the Medibus, who, in their mother tongue or accompanied by interpreters, are important bridging contacts in the medical first aid for refugees of all nationalities. The interpreters can be consulted via video if required, with 50 languages to choose from.
---
Stations
Monday, 01/23/2023
9:00 a.m. to 12:00 p.m
ÖRU/Holsteiner Chaussee, Holsteiner Chaussee 389, Schnelsen
F&W NA sports hall at Ebelingplatz 9, Horn
Hagenbeckstrasse / Lenzweg, Hagenbeckstrasse 12, Stellingen
1:00 p.m. to 4:30 p.m
A&N Hotel, 45 Moorfleeter Road, Moorfleet
Leonardo Hotel HH-Airport, Langenhorner Chaussee 183, Langenhorn
School building Vornhornweg, Vornhornweg 2, Lurup
Tuesday, 01/24/2023
9:00 a.m. to 12:00 p.m
DRK nursing home, Eichenhöhe 9, Harburg
F&W emergency accommodation gymnasium Tessenowweg, Tessenowweg 3, Alsterdorf
Hotel RCADIA / Hotel NinetyNine, Oberer Landweg 27-29, Bergedorf
1:00 p.m. to 4:30 p.m
Hotel Deutsches Haus, Bergheide 1, Harburg
Leonardo Inn, Zeppelinstrasse 12, Fuhlsbüttel
Hotel Sachsentor, Bergedorfer Schlossstrasse 10, Bergedorf
Wednesday, 01/25/2023
9:00 a.m. to 12:00 p.m
Mundsburg Tower / Hotel Check-In / City / Savoy / Moxy / Beltgens Garten, Stand at the ZOB, Mitte
Heikotel City Nord, Lauensteinstrasse 15, Bahrenfeld
Residential accommodation Große Horst in Ohlsdorf, Große Horst 2 a-n, Ohlsdorf
1:00 p.m. to 4:30 p.m
Hotel Budapester Hof / Mundsburg Tower / Hotel Stadt Altona / Savoy / Moxy / Pacific, Rindermarkthalle, Schanze
Hotel Boutique 125, Langenhorner Chaussee 125, Langenhorn
Marie-Bautz-Weg, Marie-Bautz-Weg 15, Farmsen
Thursday, 01/26/2023
9:00 a.m. to 12:00 p.m
UPW am Gleisdreieck, Am Gleisdreieck 2a-20, Allermöhe
ITM Motel 21, Droopweg 21, Hamm
F&W Accommodation Überseering, Überseering 16, City North
1:00 p.m. to 4:30 p.m
Holiday Inn, Bridge Inn, Billwerder Neuer Deich 14, Rothenburgsort
F&W emergency accommodation sports hall Tessenowweg, Tessenowweg 3, Alsterdorf
Leonardo Inn, Zeppelinstrasse 12, Fuhlsbüttel
Friday, 01/27/2023
9:00 a.m. to 12:00 p.m
Kieler Strasse (formerly Aldi) Kieler Strasse 553-555, Eidelstedt
DRK initial reception at An der Twiete (Lohbrügge), An der Twiete 23, Bergedorf
Leonardo Hotel HH-Airport, Langenhorner Chaussee 183, Langenhorn
1:00 p.m. to 4:30 p.m
Ambassador Hotel, Heidenkampsweg 34, Mitte
F&W NA sports hall at Ebelingplatz, Ebelingplatz 9, Horn
Hotel Grand Apricot, Kattunbleiche 24, Eimsbüttel
The
Gallery